About Conference

Allied Academies is a scientific association known for promoting scientific temperament and has been performing very well in Business and Management and is a perfect platform for our readers. It is established in the year 1997. The main motto is making the information on science and technology. It is a specialized medical and science publisher that operates in collaboration with the association and societies. This publishing house has been built on the base of esteemed academic and research institutions including The College of Audiologists and Speech-Language Pathologists of Ontario (CASLPO), The Association for Public Safety Communications Officials of Canada (APCO), The Canadian Vascular Access Association (CVAA), and The Canadian Society of Internal Medicine (CSIM). Obesity Congress 2018 invites all the participants from all over the world to attend "2nd World Obesity Congress", on October 15-16, 2018 in Tokyo, Japan which includes prompt keynote presentations, oral talks, poster presentations, exhibitions, symposiums, workshops, and panel discussion on latest research developments in the field of Obesity. Obesity is a medical condition in which excess body fat has accumulated to the extent that it may have a negative effect on health. Obesity is most commonly caused by a combination of excessive food intake, lack of physical activity, and genetic susceptibility. Once considered a problem only of high-income countries, obesity Events rates are raising worldwide and affecting both the developed and developing world. The combined progress in quantitative genetics, genomics and bioinformatics have contributed to a better understanding of the genetic and molecular basis of obesity.
Objective:
Obesity Congress 2018 is a platform to fulfill the prevailing gaps in the transformation of this science of hope, to serve promptly with solutions to all in the need. Obesity Congress 2018 will have an anticipated participation of 150+ delegates across the world to discuss the conference goal.
About Organizers:
Allied Academies is one of the leading Open access publishers and organizers of international scientific conferences and events every year across USA, Europe & Asia. Allied Academics has so far organized 3000+ Global Allied Academics Events with over 600+ Conferences, 1200+ Symposiums and 1200+ Workshops on Medical, Pharma, Engineering, Science, Technology and Business with 700+ peer-reviewed open access Journals in basic science, health, and technology. Obesity Congress 2018 aims will encompass recent researches and findings in Obesity Cells, current understanding of cell plasticity in obesity and other advancements in Obesity cells research and cell science. Obesity Congress 2018 will be a great platform for research scientists and young researchers to share their current findings in this field of applied science. The major scientific sessions in Obesity Congress 2018 will focus on the latest and exciting innovations in prominent areas of Obesity science and Obesity research.
Target Audience:
Eminent personalities, Directors, CEO, President, Vice-president, Organizations, Associations Heads and Professors, Research scientists, laboratory heads, Post-docs, Students, Academics, Counsellors, Clinicians, Diabetologists, Educators, Dieticians, Exercise therapists, Family Physicians, Family Therapists, General Practitioners, Health Educators/promoters, Healthcare policy makers, Mental Health Professionals, Nurses, Nutritionists, Occupational Therapists, Paediatricians, Physical activity specialists, Physicians, Physiotherapists, Psychologists, Research scientists, Social workers, Business delegates, Young researchers and other affiliates related to the area of Obesity Research.
Welcome message
Allied Academies welcomes all the attendees, speakers, sponsor's and other research expertise from all over the world to the "2nd World Obesity Congress" (Obesity Congress 2018) which is going to be held during October 15-16, 2018 in Tokyo, Japan. We are very much honored to invite you all to exchange and share your views and experience on Obesity. This is our heart whelming colossal desire to welcome all of you to a new era of logical gatherings and scientific conferences.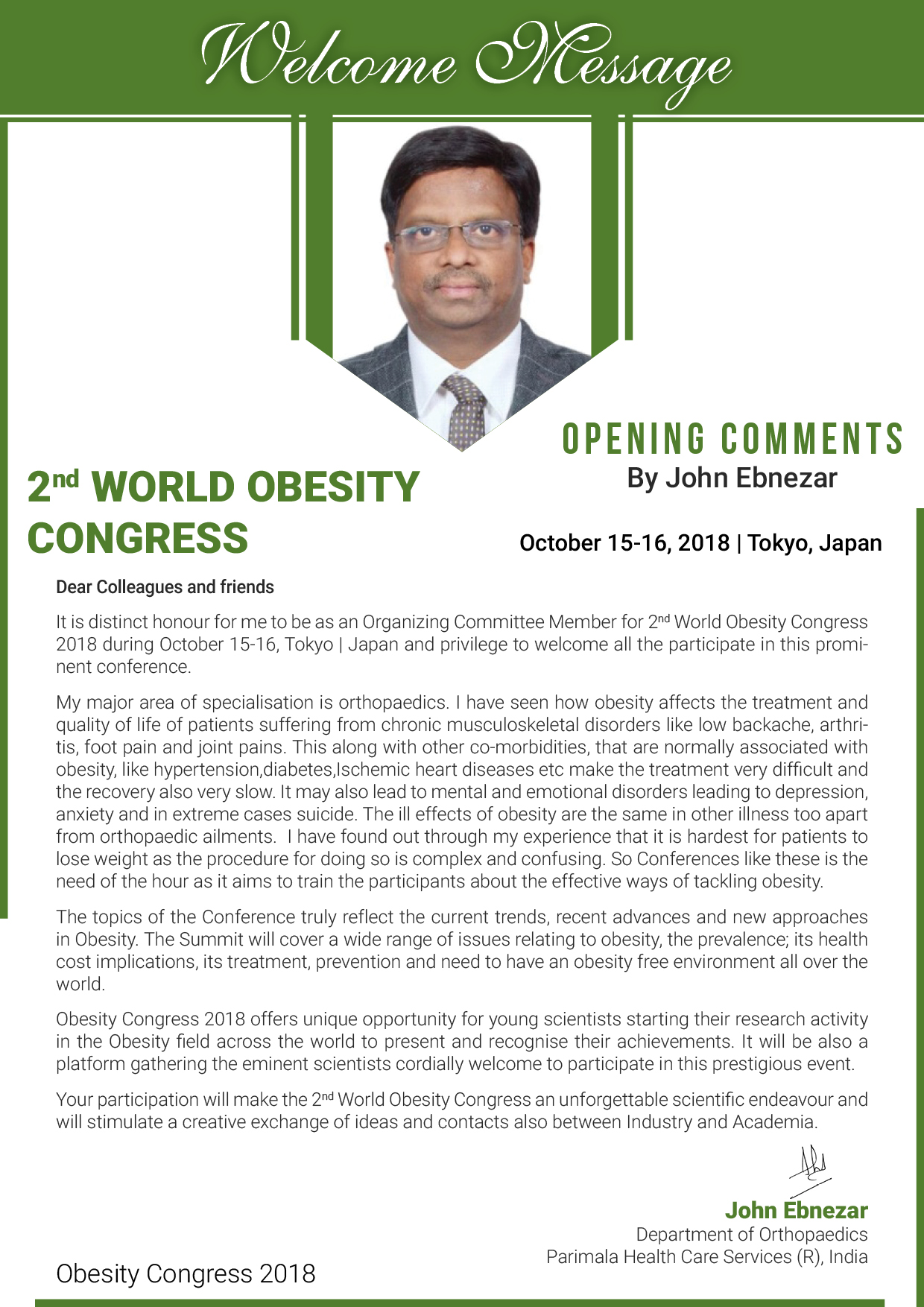 It's our great pleasure to welcome you all for the World Obesity Congress scheduled on October 15-16, 2018 in Tokyo, Japan. Obesity Congress 2018 aims to gather the Researchers, principal investigators, experts and researchers working under academia and healthcare industry, Business Delegates, Scientists and students across the globe to provide an international forum for the dissemination of original research results, new ideas, and practical development experiences. We hope that you will grasp this academic occasion to revitalize the enduring connections and flash with new peers around the globe. Meet the Global Inspiring Experts and Speakers at our Obesity Congress 2018 to talk about new advances in the field of medical and engineering to improve health and treatment and additional innovations. Obesity Congress 2018 not just make a phase to exchange estimations to the enormous social occasion of individuals, yet also endeavor to spread concentrated and research advances in the clinical, definite and physiological parts of medicinal and designing. It happens to be more feasible for everyone to put in the photograph with novel research and to perceive the degree and noteworthiness of specific research run in the field of therapeutic and designing.
Register Here: http://obesity-congress.alliedacademies.com/registration

Sessions/Tracks
Track 1: Obesity

Obesity is a condition in which most of the muscle to fat ratio has collected to the degree that it might adversely affect health. If a person's weight is in kilograms and it is divided by the square of his height in meters (kg/m2) is more than 20% than it should be, then the person is suffering from obesity. Body mass index (BMI) is a lucid indicant of weight-for-height which is usually used to allocate over weight and obesity in adults. It is determined as an individual's body weight in kg upon the square of his height in meters (kg/m2). If the Body Mass Index (BMI) is amidst 25 and 29.9 anon the person is conveyed as fat. If the BMI is 30 or more thereupon the patient is considered obese. Obesity is most commonly caused by a combination of excessive food intake, lack of physical activity, and genetic susceptibility. Obesity is mostly preventable through a combination of social changes and personal choices. Changes to diet and exercising are the main treatments. Diet quality can be improved by reducing the consumption of energy-dense foods, such as those high in fat and sugars, and by increasing the intake of dietary fibre. Medications may be used, along with a suitable diet, to reduce appetite or decrease fat absorption. If diet, exercise, and medication are not effective, a gastric balloon or surgery may be performed to reduce stomach volume or length of the intestines, leading to feeling full earlier or a reduced ability to absorb nutrients from food.
Track 2: Effect on health

Individuals who are oversized or obese have a preeminent peril of evolving severe conditions, all this leads to more than three million deaths worldwide annually. Relationship between obesity and mental health disorders is not clear. However, overweight is a stigma and the obesity discrimination can lead to some mental disorders. Scientific evidence lays emphasize on an increasing risk of low self-esteem, mood disorder, motivational disorders, eating problems, impaired body image, interpersonal communication problems and all these directly or indirectly affect the quality of life.
Physical diseases:
·

Bone and joint diseases

·

Diabetes

·

Joint problems

·

Cancer
Psychological diseases:
·

Depression

·

Anxiety

·

Low quality of life

·

Low self-esteem

·

Body dissatisfaction
Track 3: Anti-Obesity Drugs
Anti-obesity drugs or weight loss medications are pharmacological agents that abridge or curb weight. These drugs amend one of the elemental growths of the human body, weight control, by amending either appetite, or consumption of calories. The main remedy techniques for oversized and obese individuals endure dieting and physical work out. Anti-obesitymedication or weight loss drugs are pharmacological agents that reduce or control weight. These drugs alter one of the fundamental processes of the human body, weight regulation, by altering either appetite, or absorption of calories. The main treatment modalities for overweight and obese individuals remain dieting and physical exercise. Some patients find that diet and exercise is not a viable option; for these patients, anti-obesity drugs can be a last resort. Some prescription weight loss drugs are stimulants, which are recommended only for short-term use, and thus are of limited usefulness for extremely obese patients, who may need to reduce weight over months or years.
·

Natural Anti-Obesity Agents
·

Pharmacotherapy for Obesity
·

Future Development of Anti-Obesity Drugs
·

Drug Disposition in Obesity
·

Pharmacokinetics in Obese Patients

Effect of Bio-catalyst treatment for Obesity.
Track 4: Obesity and Diabetes
Diabetes is a clump of disorders characterized by deep rooted high blood glucose levels (hyperglycemia) because of the body's deficiency to outrun any or ample of insulin to balance elevated glucose levels. There are two major sort of diabetes. Type 1 diabetes, which usually ensue in children or adolescents, is caused by the body's inefficiency to form insulin or type 2 diabetes, which crops up as a result of the body's inefficiency to act accordingly to insulin (insulin resistance). Type 2 diabetes is more prevalent than type 1 diabetes and is therefore seen in roughly 90% of all diabetes cases. Type 2 diabetes is prevailingly seen after the age of forty, however, it is now being found in all age ambits, along with children and adolescents. There are plenty of risk assets for type 2 diabetes like age, race, pregnancy, stress, certain drugs, genetics and obesity. None the less, the lone finest prognosticator of type 2 diabetes is outsized or obesity. About 90% of individuals subsisting with type 2 diabetes are outsized or obese. People who are outsized or obese have casted burden on their body's capacity to utilize insulin to accordingly curb the blood sugar levels, and are thus more acceptable to enroot diabetes. Weight boost is usual in people who gate insulin to feast diabetes. That is an outcome of extra insulin we utilize to sustain our blood glucose level, the more glucose is consumed by our cells, contrast with and by our body. The consumed glucose was put over as fat, which cause us to gain more weight.
Avoid refined carbohydrates
Track 5: Obesity and its Causes
The equilance between calorie intake and energy expense determines an individual's weight. If a person devours high amounts of energy, especially fat and sugars, but doesn't burn off the calorie through work out and physical activity, much of the unused energy will be reserved by the body as fat. On the surface, the cause of obesity seems simple: if a person consumes more calories than he can burn as energy through physical activity, then you'll gain weight. But like many things, the simple explanation is often incomplete. The risk factors that contribute to obesity can be a complex combination of genetics, socioeconomic factors, metabolic factors and lifestyle choices, among other things. Some endocrine disorders, diseases and medications can also cause weight to increase. There are many deductions of obesity in an individual alike.

·

poor diet

·

absence of physical activity

·

genetics

·

therapeutic reasons



Track 6: Childhood Obesity
Obesity amid youth can critically alter the body in abundant ways. Youngsters who have obesity will apparently have a High blood pressure and exalted cholesterol, which are chance factors for cardiovascular disease (CVD). An enlarged risk of infirm glucose resistance, insulin resistance, and type 2diabetes lung disease, for e.g., asthma and sleep apnoea. Joint issues and musculoskeletal ache. The fatty liver syndrome, gallstones, and gastro-oesophageal backflow (i.e., heart burn).Childhood obesity is a condition where excess body fat negatively affects a child's health or well-being. As methods to determine body fat directly are difficult, the diagnosis of obesity is often based on BMI. Childhood obesity can be brought on by a range of factors which often act in combination. "Obesogenic environment" is the medical term set aside for this mixture of elements. The greatest risk factor for child obesity is the obesity of both parents. This may be reflected by the family's environment and genetics. Other reasons may also be due to psychological factors and the child's body type. Factors include the increase in use of technology, increase in snacks and portion size of meals, and the decrease in the physical activity of children. A study found kids that use electronic devices 3 or more hours a day had between a 17- 44% increased risk of being overweight, or a 10- 61% increased risk of obese. Childhood obesity is common among children from, low-income, African American and Hispanic communities. This is mainly because minority children spend less time playing outside the house and staying active. Some contributors to childhood obesity are that parents would rather have their children stay inside the home because they fear that gang, drug violence, and other dangers might harm them.
Track 7: Obesity in Teens

Obesity is amidst the evident therapeutic situation to recognize but utmost crucial to treat. Obesity is an amplified risk of anguish and lethality and also abated future. The utmost recent two years of the preceding century have seen an impressive hike in human services charge as of obesity and associated concern amidst kids and youths. Youngsters in vogue are living extravagant. Debilitated weight gain owed to meagre diet and absence of exercise is liable for more than 300,000 deaths every year. The year end expenditure to society for obesity is approximated at roughly $100 billion. Outsized adolescents are more acceptable to turn into overweight adults lest they embrace and continue healthier prototype of eating and exercise.The factors that influence obesity among adolescents are the same as those among adults. Hormonal disorders, such as an underactive thyroid gland (hypothyroidism) or overactive adrenal glands, may result in obesity but are rarely the cause. Adolescents with weight gain caused by hormonal disorders are usually short and most often have other signs of the underlying disorder. Any obese adolescent who is short and has high blood pressure should be tested for the hormonal disorder Cushing syndrome. Genetics play a role, which means that some people are at greater risk of obesity than others. Because of society's stigma against obesity, many obese adolescents have a poor self-image and may become increasingly socially isolated.
Psychological squeals treatment
Track 8: Obesity in Adults

One of the utmost modern and accurate global estimates finds that nearly 500 million adults are obese. That's approximately 10 % of men and 14 % of women-and it's roughly twice the rate of obesity in 1980. Approximately 1.5 billion adults were overweight or obese. Obesity is a complex health issue to address. Obesity results from a combination of causes and contributing factors, including individual factors such as behavior and genetics. Behaviors can include dietary patterns, physical activity, inactivity, medication use, and other exposures. Additional contributing factors in our society include the food and physical activity environment, education and skills, and food marketing and promotion. Obesity is a serious concern because it is associated with poorer mental health outcomes, reduced quality of life, and the leading causes of death in the U.S. and worldwide, including diabetes, heart disease, stroke, and some types of cancer. Having a healthy diet pattern and regular physical activity is also important for long term health benefits and prevention of chronic diseases such as Type 2 diabetes and heart disease. People and families may make decisions based on their environment or community. For example, a person may choose not to walk or bike to the store or to work because of a lack of sidewalks or safe bike trails. Community, home, child care, school, health care, and workplace settings can all influence people's daily behaviors. Therefore, it is important to create environments in these locations that make it easier to engage in physical activity and eat a healthy diet. Genetic changes in human populations occur too slowly to be responsible for the obesity epidemic. Nevertheless, the variation in how people respond to the environment that promotes physical inactivity and intake of high-calorie foods suggests that genes do play a role in the development of obesity.
Track 9: Obesity and Endocrinology
Obesity is also linked to minute endocrine illnesses, together hypothyroidism and poly-cystic ovarian syndrome to the subtitled ones, for e.g., Cushing's syndrome, central hypothyroidism, and hypothalamic disorders. The system for the progression of weight shift in as per the endocrine condition. Hypothyroidism is linked with accumulation of hyaluronic acid inside various tissues, extra liquid preservation as of reduced cardiovascular outcome and decreased thermogenesis. The pathophysiology of obesity-linked with poly-cystic ovarian syndrome remains fickle as obesity itself may together be the reason and the consequence of the disorder. The net ampleness of androgen gives off an impact of being crucial in the advancement of basic obesity. In Cushing's syndrome, a combination with thyroid and improved hormones plays a crucial part to an elevated adipocyte segregation and adipogenesis. Several endocrine abnormalities are reported in obesity. Some of these abnormalities are considered as causative factors for the development of obesity, whereas others are considered to be secondary effects of obesity and usually are restored after weight loss. Thyroid hormones usually are normal in obesity, with the exception of T3 which is elevated. Prolactin is normal but prolactin response to different stimuli is blunted. GH is low and GH response to stimuli is blunted. IGF-I levels are normal or elevated. Cortisol, ACTH, and urine free cortisol levels are usually normal; however, a hyper responsiveness of the HPA axis with increased cortisol and ACTH response to stimulatory tests is observed in centrally obese individuals. Total testosterone and SHBG levels are low, but free testosterone levels are usually normal in obese men. LH and FSH levels usually are normal and oestrogens are elevated. Norepinephrine levels are elevated, whereas epinephrine levels are low or normal. Aldosterone levels are elevated but rennin activity is usually normal. Parathyroid hormone levels are elevated with normal serum calcium levels and increased urine calcium levels. Monogenic mutations that result in severe obesity have been described in several individuals. Also, several endocrine diseases have obesity as one their clinical manifestations. Hypothyroidism, Cushing's syndrome, GH and testosterone deficiency, poly-cystic ovarian syndrome, insulinoma, hypothalamic lesions, and genetic syndromes often present with obesity. In most of these conditions, appropriate treatment of the primary disease results in weight loss. In addition, the fat cell has been found to be an endocrine organ that produces several peptides that are bio-active and participate in the regulation of adipocyte function.
Hypothyroidism and hyperthyroidism
Rare congenital obesity syndromes
Congenital generalized lipodystrophy
Track 10: Bariatric Surgery

Bariatric surgery (weight loss surgery) comprises off a mixture of conducts done on individuals who have obesity. Weight loss is accomplished by decreasing the capacity of the stomach with a gastric band or through extirpation of a part of the stomach or by exterminating and re-routing the small intestine to a mini stomach pouch. Long-term studies show the procedures cause significant long-term loss of weight, recovery from diabetes, improvement in cardiovascular risk factors, and a mortality reduction from 40% to 23%. The National Institutes of Health recommends bariatric surgery for obese people with a body mass index (BMI) of at least 40, and for people with BMI of at least 35 and serious coexisting medical conditions such as diabetes. However, research is emerging that suggests bariatric surgery could be appropriate for those with a BMI of 35 to 40 with no comorbidities or a BMI of 30 to 35 with significant comorbidities. The most recent American Society for Metabolic & Bariatric Surgery guidelines suggests the position statement on consensus for BMI as an indication for bariatric surgery. The recent guidelines suggest that any patient with a BMI of more than 30 with comorbidities is a candidate for bariatric surgery.

Track 11: Pathophysiology of obesity


The adipocyte, which is the living support for obesity, may be added on in size or statistic in obese individuals. Hypertrophic obesity, identified by expatiate fat cells, is common of Andric abdominal obesity. Hyper cellularobesity is further volatile than hypertrophic obesity; it commonly ensues in people who develop obesity in childhood or teenage, but it is further constantly formed in patients with satirical obesity. Hypertrophic obesity commonly occurs in adulthood, is linked with elevated cardiovascular uncertainty, and acknowledges instantly to weight attrition measures. In converse, subjects with hyper cellular obesity may consider it tough to divest weight over nonsurgical mediations. Obesity is an exaggeration of normal adiposity and is a central player in the pathophysiology of diabetes mellitus, insulin resistance, dyslipidaemia, hypertension, and atherosclerosis, largely due to its secretion of excessive adipokines. Obesity is a major contributor to the metabolic dysfunction involving lipid and glucose, but on a broader scale, it influences organ dysfunction involving cardiac, liver, intestinal, pulmonary, endocrine, and reproductive functions. Inflammatory, insulin-resistant, hypertensive, and thrombotic-promoting adipokines, which are atherogenic, are counterbalanced by anti-inflammatory and anti-atherogenic adipocyte hormones such as adiponectin, visfatin, and acylation-stimulating protein, whereas certain actions of leptin and resistin are pro-atherogenic. Adiponectin is protective against liver fibrosis due to its anti-inflammatory effect, whereas inflammatory cytokines such as tumour necrosis factor are detrimental for both fatty liver and pancreatic insulin release. Obesity contributes to immune dysfunction from the effects of its inflammatory adipokine secretion and is a major risk factor for many cancers, including hepatocellular, oesophageal, and colon. Because of the accelerating effects that obesity has on the worsening of metabolic syndrome and cancer, it has the potential to be profoundly detrimental to our species if major methods of prevention and/or effective treatment are not realized. It is essential then to institute major educational efforts aimed at promoting better eating habits and physical exercise.




Track 12: Gynaecology and Obstetrics


Obesity is a rising issue in the advanced world, is more usual in women than men and alters the gynaecological system in three forms. It has a candid consequence in indication of greater uncertainty of polycystic ovarian disorder issues with ovulation induction, and endometrial carcinoma. It has an oblique issue in terms of complication in pelvic check-ups and imaging techniques. Obesity furthermore edges to technical complications during surgery and an elevation in stress and fatality post-operatively. Obstetrics and gynaecology is the medical specialty that deals with obstetrics and gynaecology. Postgraduate training programs for both aspects are usually combined, preparing the practicing obstetrician-gynaecologist to be adept at the care of female reproductive organs health and at the management of pregnancy, although many doctors go on to develop subspecialty interests in one field or the other. Obstetrics and gynaecology are medical specialties that focus on two different aspects of the female reproductive system. Obstetrics deals with the care of the pregnant women, the unborn baby, labour and delivery and the immediate period following childbirth. The obstetrician ensures that mother and child get the best prenatal care to ensure labour and delivery is accomplished without complications and that should intervention be needed, it is done quickly and safely. Gynaecology deals with any ailment concerning the reproductive organs; uterus, fallopian tubes, cervix, ovaries and vagina. A gynaecologist may also treat related problems in the bowel, bladder and urinary system since these are closely related to female reproductive organs.

Track 13: Genetics and Obesity



It is now entrenched that obesity and the variant forms of obesity is a situation likely to intensify within a family. Obesity liability is two to eight times over for an individual with a family history as averse to an individual with no family past of obesity, and an even bigger possibility is seen in concern of severe obesity. Science shows that genetics act a part in obesity. Genes can directly source obesity in disease like Bardet-Biedl disorder and Prader-Willi disorder. However genes do not consistently foresee future health. Genes and habits may both be required for an individual to be obese. Like many other medical conditions, obesity is the result of interplay between environmental and genetic factors. Studies have identified variants in several genes that may contribute to weight gain and body fat distribution; although, only in a few cases are genes the primary cause of obesity. Polymorphisms in various genes controlling appetite and metabolism predispose to obesity under certain dietary conditions. The percentage of obesity that can be attributed to genetics varies widely, depending on the population examined, from 6% to 85%.As of 2006, more than 41 sites on the human genome have been linked to the development of obesity when a favourable environment is present. The involvement of genetic factors in the development of obesity is estimated to be 40–70%. Some of these obesogenic or leptogenic genes may influence obese individual's response to weight loss or weight management.



Congruence of Mono-zygotic twins

Mutation of Distinct Genes
Track 14: Cardiovascular diseases and Obesity


Obesity and outsize are related to many aspects that boost ones threat of cardiovascular disease: High blood lipids, specifically elevated triglycerides, LDL cholesterol, and total cholesterol and low HDL cholesterol, High blood pressure, unsound glucose resistance or type-2 diabetes, metabolic syndrome. In inclusion, outsize and obesity can be linked to several cancers, gallbladder disorders and osteoarthritis.Obesity is becoming a global epidemic in both children and adults. It is associated with numerous comorbidities such as cardiovascular diseases (CVD), type 2 diabetes, hypertension, certain cancers, and sleep apnoea/sleep-disordered breathing. In fact, obesity is an independent risk factor for CVD, and CVD risks have also been documented in obese children. Obesity is associated with an increased risk of morbidity and mortality as well as reduced life expectancy. Health service use and medical costs associated with obesity and related diseases have risen dramatically and are expected to continue to rise On the whole, overweight and obesity predispose to or are associated with numerous cardiac complications such as coronary heart disease, heart failure, and sudden death because of their impact on the cardiovascular system. The pathophysiology of these entities that are linked to obesity will be discussed. However, the cardiovascular clinical evaluation of obese patients may be limited because of the morphology of the individual. In this statement, we review the available evidence of the impact of obesity on CVD with emphasis on the evaluation of cardiac structure and function in obese patients and the effect of weight loss on the cardiovascular system.
Track 15: Obesity and metabolic disorders

The disorder of obesity is far above the elemental affluence in weight. It is actually a metabolic disorder comprising of convoluted metabolic and hormonal factors. Obesity is linked to a chronic situation of infection. Over the top fat cells exculpate a spout of biochemical which turns in chronic infection. Metabolic syndrome, sometimes known by other names, is a clustering of at least three of the five following medical conditions: abdominal obesity, high blood pressure, high blood sugar, high serum triglycerides and lowhigh-density lipoprotein (HDL) levels. Metabolic syndrome is associated with the risk of developing cardiovascular disease and type 2 diabetes. In the world about a quarter of the adult population have metabolic syndrome, and the prevalence increases with age, with racial and ethnic minorities being particularly affected. Insulin resistance, metabolic syndrome, and pre-diabetes are closely related to one another and have overlapping aspects. The syndrome is thought to be caused by an underlying disorder of energy utilization and storage. The cause of the syndrome is an area of on-going medical research.It is believed that this chronic situation of infection brings about disorders:
·

Diabetes


·

Coronary illness

·

Stroke

·

Cancer

·

Joint and muscle

pains
Track 16: Obesity Management
Management of obesity includes lifestyle transition, drugs, or surgery. The leading therapy for obesity consists of dieting and physical work-out. Diet plans may out-turn weight loss over the short term, but retaining this weight loss is usually tough and usually depends upon making exercise and a low calorie diet a perpetual element of an individual's lifestyle. Dietary and lifestyle transitions are effective in curbing extra weight gain.. Success rates of long-term weight loss maintenance with lifestyle changes are low, ranging from 2 to 20%. Dietary and lifestyle changes are effective in limiting excessive weight gain in pregnancy and improve outcomes for both the mother and the child. The National Institutes of Health recommend a weight loss goal of 5% to 10% of the person's current weight over six months. Therapy of obesity initiates with complete lifestyle management, which should include the following:
·

Self-monitoring

of caloric intake and physical activity

·

Non-food rewards
·

Relapse prevention.

Track 17: Obesity and Lifestyle changes
Lifestyle treatment for weight loss targets on curbing energy intake and upturning physical work-out and diet, exercise and eating habits. In general, a mixture of treatments is the most adequate approach to attain weight loss. Managing obesity is usually about making lifestyle transitions, which may be tough. To lose weight, the patient has to burn more calories than they take in. However, our body is a very efficient engine, hence it takes major time and energy to burn calories than it does to take them in. Hence, it is crucial to both reduce calorie intake and increase exercise when curing obesity. Obesity is a chronic condition and there is no 'quick fix' solution or treatment that is effective for all overweight or obese individuals. Furthermore, after following weight loss programs, relapses of weight gain are extremely common. This emphasises the importance of a lifetime commitment to healthy eating and exercise practices. A range of different treatment options are available for obesity. Lifestyle modification (with a reduction of energy intake and an increase in physical activity) is essential in all treatment strategies. There are currently no long-term treatment programs that do not require at least some lifestyle changes. Positive changes in your eating and exercise behaviour are essential for sustained reductions in weight. However, if you are extremely overweight it may be recommended that you also take weight loss medications or undergo bariatric surgery.
Track 18: Obesity in real life
Certain types of foods and eating habits have been related to outsize and obesity, for e.g., snacking, binge-eating, and eating out. Physical workout and physical fitness are important aspects in decreasing the risk of weight gain and linked disorders, like heart diseases, and moderate to high fitness entails health benefits. The most well established way for an overweight individual is to lose weight is by focusing on diet and curbing the calories. As populations become more urban and incomes rise, diets high in sugar, fat and animal products replace more traditional diets that were high in complex carbohydrates and fibre. Ethnic cuisine and unique traditional food habits are being replaced by westernised fast foods, soft drinks and increased meat consumption. Homogenisation and westernisation of the global diet has increased the energy density and this is particularly a problem for the poor in all countries who are at risk of both obesity and micronutrient deficiencies. A broad range of strategies were recommended to reduce obesity prevalence including: influencing the food supply to make healthy choices easier; reducing the marketing of energy dense foods and beverages to children; influencing urban environments and transport systems to promote physical activity.
Regular physical activity
Intake of non-starch polysaccharides
Low intake of energy-dense
Track 19: Obesity in real life

In the advance world, people are portrayed by an inactive lifestyle and an excessive intake of a high-fat and high-energy diet. As a result, obesity and diabetes mellitus have become worldwide epidemic. In addition to health impacts, obesity leads to many problems including depression and mental health. Depression can both cause stress, which, in turn, may cause you to change your eating and activity habits. Real life stories demonstrate all these experience of an obese person. It is also the impact a health care provider can have on achieving successful weight-loss. A range of psychological disorders, including schizophrenia, anxiety, bipolar disorder and depression, have all been shown to be related with elevated risk of overweight and obesity, and also increased threat of obesity linked diseases:
Mental and emotional problems
TTrack 20: Society and culture

The social effect of being outsize and obese is severe and pervasive. Outsize and obese individuals are often targets of bias and stigma, and they are liable to negative mind-sets in many domains of living along-with places of employment, educational institutions, medical facilities, the mass media, and personal relationships. Race and ethnicity are terms used to categorize populations on the basis of shared characteristics. Race has traditionally been used to categorize populations on the basis of shared biological characteristics such as genes, skin color, and other observable features. Ethnicity is used to categorize on the basis of cultural characteristics such as shared language, ancestry, religious traditions, dietary preferences, and history. Although ethnic groups can share a range of phenotypic characteristics due to their shared ancestry, the term is typically used to highlight cultural and social characteristics instead of biological ones. Both race and ethnicity are, in fact, social constructs. The assumption that race reflects only biological distinctions is inaccurate. Categories based on race account for only 3–7% of total human genetic diversity, are not reliably measured, and are not always biologically meaningful. Furthermore, both race and ethnicity are constantly evolving concepts, making the task of comparing groups or following the same group over time quite challenging. Nevertheless, the social importance given to these constructs to describe groups that have been treated in similar ways based on presumed biological characteristics, as well as the acknowledgment that such classifications themselves have contributed to inequalities in health and health care access, necessitates that we continue to use the terms race and ethnicity.
Racial/ethnic differences
Track 21: Research on Obesity
From the last 20 years, obesity amidst adults has grown through and throughout the world. The latest data from the National Centre for Health Statistics states that among youth, 18 % of children developed 6-11 years and 21% of adolescents developed 12– 19 years are seen as obese. But one of the national prosperity objectives for the year 2020 is to lessen the regularity of obesity among adults by 10 %, current data shows that the situation isn't advancing. During the past 20 years, obesity among adults has risen significantly in the world. The latest data from the National Centre for Health Statistics show that a third of adults 20 years of age and older—over 100 million people—are obese. This increase is not limited to adults, but has also affected young people. Among youth, 18% of children aged 6-11 years and 21% of teens aged 12–19 years are considered obese. These rates of obesity have substantial implications for human health. Being obese increases the risk of many diseases and health conditions, including: High blood pressure; High cholesterol; Type 2 diabetes; Coronary heart disease; Stroke; Gallbladder disease; Arthritis; Sleep apnoea; Some cancers. Although one of the national health objectives for the year 2020 is to reduce the prevalence of obesity among adults by 10%, current data indicate that the situation is not improving.
Behavioural Medicine

Comparative Effectiveness

Controlled Trials

Evidence-Based Medicine

Genetic Epidemiology

Health Services Research

Low quality of life

Barrier in cancer screening.
Market Analysis Report
Market Analysis
The worldwide obesity treatment showcase is relied upon to achieve USD 15.6 billion by 2024, as indicated by another report by Grand View Research, Inc. The upward pattern in stationary ways of life, physical inertia, and unfortunate sustenance propensities are the key variables in charge of the high predominance of obesity. As indicated by the Institute of Health Metrics and Evaluation, around 30.0% of the worldwide populace is either obese or overweight. Furthermore, alongside business accessibility of answers for weight administration, innovative progressions presented by the vertical players and steady activities embraced by the legislatures, make more mindfulness as to corpulence and its effect on well-being. This is further driving the development of the corpulence treatment showcase. There are different methodologies for weight administration, for example, eat less, work out, drugs, insignificantly obtrusive gadgets and inserts, and surgeries. Among the common medications, the blend drugs hold the biggest piece of the pie though satiety tranquilizes that provide a sentiment totality show up as the quickest developing portion in the weight treatment showcase.
In surgeries, gastric sidestep strategies frame the biggest developing fragment while the insignificantly obtrusive endoscopic method section that includes a surgical position of inserts and gadgets, for example, satiety gadgets and gastric emptying gadgets, is the quickest developing space. Exceptional rivalry in the private part has driven headways and advancement toward the improvement of the most recent systems for corpulence treatment that are offered in private doctor's facilities and centers. Subsequently, the interest in negligibly intrusive systems is quickly expanding. What's more, expanding attention to corpulence and the related sicknesses and the business accessibility of weight administration arrangements is pushing the heaviness treatment showcase.
Additionally, key discoveries from the examination propose: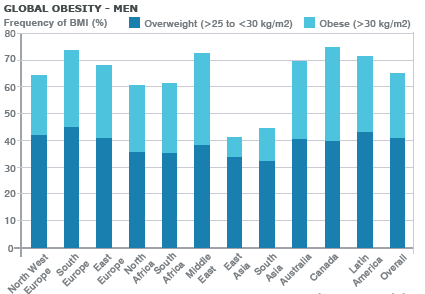 The mix drugs portion for corpulence caught the biggest piece of the overall industry of around 53% of the worldwide market in 2015. The biggest offer of the fragment was principally ascribed to the rising predominance of obesity and the synergistic impact of blend treatment in weight administration. In the surgeries and gadgets portion, gastric sidestep is the biggest developing with a piece of the overall industry of more than 32%, while the negligibly obtrusive endoscopic systems section is foreseen to be the quickest developing classification in corpulence treatment for the figure time frame. North America represents the biggest piece of the pie of around 52.0% out of 2015. This district is relied upon to keep up its predominance all through the figure time frame because of the overwhelming R&D ventures sent to create viable weight administration arrangements and the business accessibility of negligibly obtrusive techniques. The Asia Pacific is foreseen to witness the speediest development amid the conjecture time frame. Developing attention to unfriendly wellbeing impacts identified with abundance weight and its effect among people, rising extra cash, enhancing human services foundation, and the rising therapeutic tourism industry is a portion of the components anticipated that would drive the development of the Asia Pacific segment amid the estimated time frame. Some key market members incorporate VIVUS, Inc., Arena Pharmaceuticals, Inc., F. Hoffman-La Roche Ltd., Novo Nordisk A/S, Allergan Plc., Medtronic, Ethic-on (backup of Johnson and Johnson), Cousin Biotech, EnteroMedics, Inc., and USGI Medical, Inc. The players are concentrating on item advancement through broad R&D exercises and presenting new blend drugs and satiety items. Likewise, the part monsters are growing negligibly intrusive methods and starting coordinated efforts to extend their topographical domains to increase more noteworthy market nearness. Amazing View Research has sectioned the fat treatment advertise on the principle of detail, application, and geology.
The obesity epidemic all over the world represents a critical public health issue that has the potential to incur major healthcare costs because of the substantial risks associated with excess body fat. So the importance of healthy weight is gaining extreme important part of overall health. As Obesity has become a public problem we are very much concerned about this medical condition and playing a huge role in improving the health of individuals by bringing all the research and advances in this arena on to a single platform i.e., 2nd World Obesity Congress(Obesity Congress 2018).
Importance and Scope
This event is expected to present an outstanding spectrum of research from different countries bringing together collective solutions. This Obesity Congress will be of interest to anyone concerned with learning, sharing issues and experiences regarding Obesity & its related areas of Medicine & Health Care. This Obesity meeting fetches leading and experienced Metabolic and Bariatric Surgeons, Physicians, Basic and Clinical Research Scientists, Integrated Health Professionals, Registered Dieticians and Diabetes Educators, Physical Therapists, Students, Industry Professionals, Fitness Professionals and Health Promoters and many more. The health effects of being overweight or obesity. Heart disease, Stroke, Type 2 diabetes, High blood pressure, Gout and Breathing problems, Osteoarthritis, Gallbladder disease, Cushing Disease etc… The global weight loss and weight management market is expected to reach $206.4 billion by 2019 from $178.0 billion in 2014, growing at a CAGR of 5.7% from 2014 to 2019. The weight loss and weight management market is segmented on the basis of diet (meal, beverage, and supplement), equipment (fitness and surgical equipment), and service. The diet segment is expected to account for the largest share of the weight loss and weight management market in 2014. Valued at more than $130 million in 2009, the U.S. Obesity drugs market is expected to grow at a healthy compound annual rate of 5.0%, with sales reaching nearly $190 million in 2014. Despite the conservatively modest 5-year forecast, a substantial number of novel drugs, including those indicated for type 2 diabetes, are being developed and studied for the treatment of obesity and may reach the market over the next decade, when the market is optimistically expected to expand exponentially.
Members associated with Obesity Research
Scientists, Researchers, professors, Business delegates, research scholars, and Young researchers and student delegates from Academia and Research along with the industry professionals from medical sectors. Academia 70%, Industry 20%, Others 10%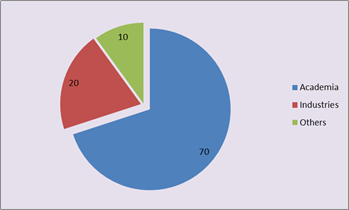 Scope and Importance of Nutrition Research

Diet and alimentation are paramount factors in the promotion and maintenance of good health throughout the entire life course. Some 57% of the 10.9 million deaths each year among children aged less than five years in the developing world are associated with malnutrition. Iodine deficiency is the greatest single preventable cause of encephalon damage and noetic retardation ecumenical and is estimated to affect more than 700 million people, most of them located in the less developed countries. Over 2300 million people have iron deficiency anemia. Vitamin A deficiency remains the single greatest preventable cause of needless childhood visual impairment and incremented risk of premature childhood mortality from infectious diseases, with 189 million children under five years of age suffering from subclinical deficiency.
As there is elevate in the number of deaths due to diseases cognate to alimentation, it is essential to curb its elevate and ascertain good health. It is essential to follow opportune pabulum affluent diet in order to maintain good health. The keys to good alimentation are a balance, variety, and mitigation. To stay salubrious, your body needs the right balance of carbohydrates, fats, and protein — the three main components of pabulum. Pabulum research contributes to the amendment of public health through quality research and a better understanding of the science involved in pabulum and dietetics. The major areas of research include Diet and Cancer, Public Health Alimentation, Dietary Bioactive Components, Nutrient-Gene Interactions. Conference Series Cordially invites all clinical nutritionists, registered dieticians, and other health-care professionals, researchers, scientists, and students working in the field across the globe to participate in the Conference on Obesity & Nutrition, where all the recent advancement and researches in the field of Obesity & Nutrition will be discussed under a single roof.
Market Value on Nutrition Research
Over the last ten to fifteen years, sales in the global nutrition and supplements market have seen an unprecedented spike. This has encouraged a number of new players to step into the market with products that promise to be the elixir of youth, health, and vitality. According to the estimates of the Nutrition Business Journal report, the global nutrition and supplements market stood at US$86 billion as of 2012. A year later, it was approximately US$ 107 billion globally.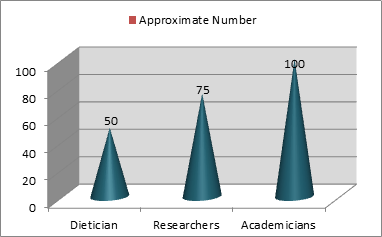 Statistics of Dieticians, Researchers, and Academicians working on Nutrition Research